ABOBO HERE TO ANNOUNCE ABOBO'S BIG ART CONTEST WINNERS! ABOBO NOT UNDERSTAND WHY ART CONTEST SUCH A BIG DEAL. ABOBO MAKE JACKSON POLLOCK ART EVERY TIME ABOBO MASH PEOPLE WITH ABOBO'S FISTS! ABOBO'S POLLOCK SPLATTER BLOOD ART SHOULD BE SOLD FOR MILLIONS OF DOLLARS TO STUPID RICH PEOPLE LIVING IN GOLD TOWERS WHO THEN ABOBO WILL MASH WITH FISTS FOR WASTING ALL THEIR MONEY INSTEAD OF MAKING WORLD A BETTER PLACE FOR ABOBO TO SMASH! ABOBO!!!
ABOBO WILL ANNOUNCE WINNERS NOW AND LET ABOBO GAME MAKERS NICK (@BomToons), POX (@PoxPower), AND ROGER (@Mockery) TO LEAVE FEEDBACK ABOUT HOW "#ABOBO10" ART ENTRIES NOT NEARLY PRETTY AS ABOBO POLLOCK SPLATTERS! IMPORTANT ABOBO ART CONTEST DISCLAIMER: ABOBO ART CONTEST WINNERS ARE NOT EXEMPT FROM ABOBO FIST MASHINGS!!!
1ST PLACE GOES TO SCEPTERDPINOY!
NICK'S FEEDBACK: ScepterDiPinoy never disappoints and this is dripping with their usual style. I want to live in a world where an arcade cabinet with Abobo's Big Adventure running with these graphics exists.
POX'S FEEDBACK: Pretty much a perfect replica of what Abobo's Big Adventure would have looked like if Capcom developed it for an arcade cabinet. Absolutely spot-on, I can hear this picture.
ROGER'S FEEDBACK: Such an insanely gorgeous entry that made me wish for a real arcade version of our game! So yeah... please get on that, will ya Scepter?
2ND PLACE GOES TO THEGABOEFFECTS!
NICK'S FEEDBACK: I like that this fills in some of the gaps in the Annie The Mermaid scene and it's dripping with tons of style and polish. I'm happy it didn't fill in ALL of the gaps in the scene... though I heard Pox requested the "director's cut" version...
POX'S FEEDBACK: Just the sheer amount of work involved in this is impressive, it's making the cutscenes I put into the game look bad!
ROGER'S FEEDBACK: The amount of animation & work put into this alone seriously impressed me! It feels like a real cutscene from a better game than what we made!
3RD PLACE GOES TO ADAMAS!
NICK'S FEEDBACK: I love this crazy take on the Kirby design, he looks like a Wes Craven version of the Nintendo classic. There's a lot of energy in this and the lighting is superb with Krangby's laser eyes truly dominating and blowing out all the light in the scene with super stark shadows.
POX'S FEEDBACK: The level of detail is amazing and the Maxx type style works perfectly for these two burly characters fighting it out. The lighting is very Anime-like and makes this that much more intense.
ROGER'S FEEDBACK: Love the clever comic book style and perspective of this Krangby battle!
4TH PLACE WAS A TIE BETWEEN RAVIOLIBOX AND RANDOM-CRIT, SO BOTH OF YOU WIN CONTEST PRIZE AND PUNCHES!
-RAVIOLIBOX:
NICK'S RAVIOLIBOX FEEDBACK: I really like "anticipation" in art and design, where you're right on the edge of something HUGE happening, but you have to wait for it... this art succeeded in capturing what I feel that we were trying to get across with the ridiculous showdown between Urban Champ and Abobo... an overconfident character about to have his @$$ handed to him while being utterly oblivious of the violence awaiting him.
POX'S RAVIOLIBOX FEEDBACK: Lot of good work here to animate all this but Abobo has a handlebar mustache! What were you thinking?
ROGER'S RAVIOLIBOX FEEDBACK: What a great reference to that tiny moment of Urban Champ being all proud of himself! Certainly put a smile on my face watching him flex.
-RANDOM-CRIT:
NICK'S RANDOM-CRIT FEEDBACK: There's nothing like a unique perspective on a point of view you take for granted. This reminded me of those 3D super mario videos in how unexpected and engaging the concept is.
POX'S RANDOM-CRIT FEEDBACK: This one's great and has an original twist to it. Feels like something I'd have seen in a Nintendo Power article.
ROGER'S RANDOM-CRIT FEEDBACK: Killer perspective and a unique interpretation of the Balloon Fight stage. I love it! Definitely one of my favorite entries!
---
RUNNER-UP WINNERS ARE RUNNING FROM ABOBO'S PUNCHES BUT THEY STILL WIN DIGITAL STEAMY STEAM GAME PRIZES TO PLAY BEFORE ABOBO MASH IN THEIR FACES! RUNNER-UP ABOBO ART CONTEST WINNERS ARE:
-COLONELZACH
NICK'S FEEDBACK: The flurry of un-noticed strikes aligns very well with Abobo's "stronger than anyone or anything you can throw at him" vibe.
POX'S FEEDBACK: Yeah that's probably what would actually happen if Little Mac was fighting Abobo. Great concept and execution.
ROGER'S FEEDBACK: I can FEEL the impact of this one. No, not the punches landing on Abobo... the ONE PUNCH that he's going to destroy poor ol' Little Mac with in the very near future! Nice detail of the extra characters in the audience btw!
-EFFELBONE
NICK'S FEEDBACK: I loved the watercolor paper texture and lighting on this and, once again, the unique perspective. There's a lot of subtle detail like Abobo's elf-like stature, elven ears, and the master sword.
POX'S FEEDBACK: Has a cool box art feeling to it. I didn't imagine that dragon thing to look that menacing either, in my head it was always more like one of those animal shaped pool floaters.
ROGER'S FEEDBACK: This one made me think of some old school PC game box art that I'd find on the shelf at Babbages back in the day. I dig the stippling style!
-DEADSPREAD83
NICK'S FEEDBACK: I'm a huge fan of Deadspread's style with the offset printing dots that make these feel like they're out of a long-lost Abobo guide or instructions booklet. He broke the rules with multiple entries, but the spirit of Abobo-ness is all about unrestrained rule breaking! I want the Punch-Out one on a t-shirt!
POX'S FEEDBACK: Very much like this t-shirt screen print looking style. Feels like something I would have seen on a Lunchbox.
ROGER'S FEEDBACK: A beautiful rendition of one of the biggest moments in the entire game! The halftone dots are super effective here and I bet it'd look rad on a t-shirt too! I also absolutely loved your Urban Champ horrible dining experience entry as well, which I mention below. Thanks for putting in all that effort with three rad entries!
-THEPAINTHUFFER
NICK'S FEEDBACK: You can't go wrong when you include the sunglasses-wearing polar bear!
POX'S FEEDBACK: Very on point replica of what those NES Megaman box arts looked like. The airbrush, the colors, the logos. Great work.
ROGER'S FEEDBACK: This and several other entries are making me wish we printed souvenir faux NES game boxes when we first released Abobo's Big Adventure. I dig the additional character references in there as well!
-THEGORONDORF
NICK'S FEEDBACK: I liked this one because it mirrors the "design style" of Abobo's Big Adventure (lovingly-mocking the best games of the era) but does it with a game we failed to include! We should make sure "DOOM-BOBO" appears in Abobo's Super Adventure.
POX'S FEEDBACK: Great concept, I just ironically wish it was higher resolution! But it would work as a title screen for Doombobo.
ROGER'S FEEDBACK: Fantastic tribute to big characters in our game while spoofing the DOOM cover art! You really nailed it by including all those characters to the point where I really wish this DOOM mod existed. Nicely done!
---
HONORABLE MENTIONS THAT BARELY MISSED THE CUT (BUT CAN STILL CLAIM A FREE STEAM COPY OF "GRAVE CHASE" FROM ROGER):
-SUPERJEFFOMAN
ROGER'S FEEDBACK: A super fun cartoonish collage of all the bosses Abobo has to battle! I'd kill to have this design on a t-shirt!
-KRISKULL
ROGER'S FEEDBACK: Another wonderful collage filled with fun references. I particularly love the Amazon giving the finger directly from within laser shark's jaws!
-ADZTONYGLADVAIN
ROGER'S FEEDBACK: Finally, we now can see things from that messenger's point of view on the Zelda stage! Good stuff!
-DEADSPREAD83
ROGER'S FEEDBACK: This just might be the funniest of all the entries, and I absolutely love the perspective of the frozen-in-terror diner! Seriously nice artwork and one of my personal faves in this contest!
-AZTECANGLER
ROGER'S FEEDBACK: An unlikely alliance, and I love the detail of Doc still sweating a bit over teaming up with Abobo... and, of course, his candy bar.
-SUNOH
ROGER'S FEEDBACK: Abobo's just so dreamy! Yes, even when he's discovering the horrors of parenthood. The chain borders are an excellent touch too. Lastly, love that he's able to sweat despite being underwater - only Abobo's sweat could be strong enough to do that!
-REFURBISHDSEVENSEIZE
ROGER'S FEEDBACK: Fun entry! Abobo proves that you don't need to feel the musical beats... you just need to BEAT the musical peeps. Now I wanna see Abobo attend a karaoke night!
-EDIUZUKI
ROGER'S FEEDBACK: Love the pixel art on this one and I'm not sure anybody captured Abobo's pure rage quite as well as you did!
-TOMDOY
ROGER'S FEEDBACK: I'm a sucker for old box art as it is, and the fact that you turned this into a 3D image makes it even better. I still really wanna see a Super Mario Bros 2 version!
-POKEHEADROOM
ROGER'S FEEDBACK: I wish Abobo was somewhere in this one, but it's still a sweet 3D version of one The Amazon, who's easily one of my favorite bosses in the game!
-CENTERSARGE
ROGER'S FEEDBACK: This is a legitimately fun take on the big Power Glove moment. Good times!
-LIMEHAZARD
ROGER'S FEEDBACK: Some great stylized head-ripping action going on here, and I love how it flows directly into the title. The pixelated bosses in the background are a fantastic touch that people could easily overlook as well.
---
ABOBO NOW SHARING BORING "IMPORTANT" TEXT FOR WINNERS TO OBEY OR FACE MULTIPLE MASHINGS!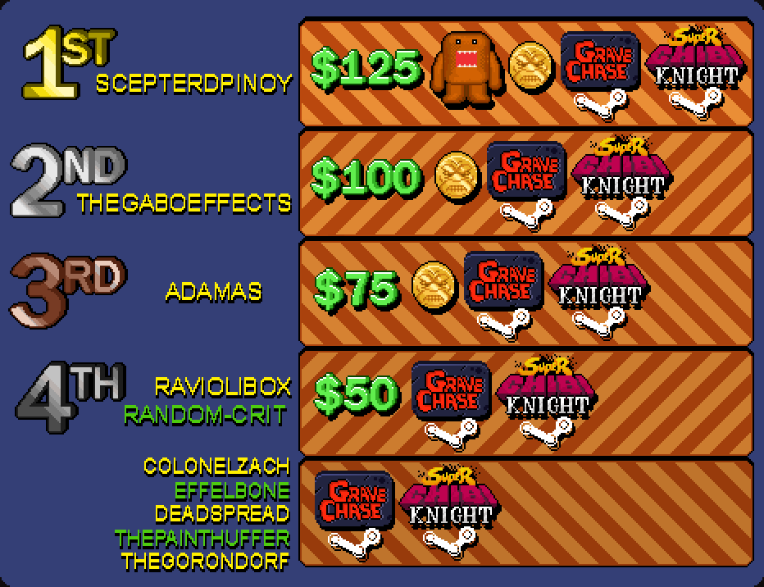 NOTE ABOUT CLAIMING PRIZES:
-Money prize winners need to PM their PayPal address to @TomFulp.
-Physical prize winners need to PM their physical street mailing address to @BoMToons
-Steam Key winners need to PM their email address to @BoMToons
-Honorable Mentions winners still get a single Steam Key and need to PM their email address to @BoMToons
ABOBO CONGRATULATE ALL ARTISTS AND THANK EVERYBODY WHO ENTER ABOBO'S BIG ART CONTEST FOR CELEBRATION OF 10 YEARS OF ANNIVERSARY FACE MASHINGS! JUST REMEMBER, NO MATTER WHO WINS, EVERYBODY LOSES TO ABOBO'S FISTS AT END OF THE DAY! ABOBO!!!!!!!
NOW GO PLAY ABOBO GAME ON NEWGROUNDS BEFORE MAKE ABOBO EVEN ANGRIER!